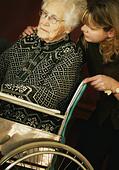 The Lord addressed  the loneliness of man when He created woman. However because of sin… death causes loneliness for the surviving spouse, the parents who survive their children and lonely singles who never had the good or bad experience of companionship. There are many who wish they had a phone call a day, or even just a friendly "Hi! how are you today?", just the thought that someone cares.
I had written about the widow of our ex church choir director, who was trouble to him all through his life, nothing he did would please her but he found his escape in singing to the Lord and helping others sing to the Lord.  One night he  died suddenly in his sleep and thereafter,  she found her loneliness unbearable.  She would still talk as if he was there and lied that he was sleeping in his room when the air conditioning maintenance or other service providers came to her home. Then she wished pastors and church members would visit her but when they came she treated them just as she used to treat her husband – nasty and naughty – so no one liked visiting her. They  persevered for a time after her husband's death,  hoping she would change over time but alas she did not and soon visits became few and far in between. She would call on the phone for members' visits but always it turned out to be scolding sessions and members were put off, while pastors  who gritted their teeth,  continued in the love of God to pray with her and visit. Last we heard, even her only daughter refuses to return home from Canada as she has become troublesome even for her daughter at such a distance away.
Many are the lonely people in the world. Some are really nice and just need a little encouragmeent and a word of care. However some are really nasty, putting off others who would like to obey the Lord to love even the unlovely till it becomes a trial to visit them.
 How are you in being lovely to the unlovely? Caring for the widows and the fatherless? Caring for the carers of those with long-term sickness or for children who are underprivileged or with disabilities?  Perhaps they may need you to accompany them on a shopping day to purchase the necessities of life, or to have a breather from home and the boring hours of loneliness and weariness. Could it  be your father, mother, father-in-law, mother-in-law, an uncle, an aunt, a relative, a friend, a friend's parent, a friend's spouse, or just a lonely person young or old, the Lord wants you to minister to? Be His blessing to that lonely one and pray with that person today.
Response:
I wonder have I done my best for Jesus?
The hours that I have wasted are so many
The hours I've spent for Christ so few;
Because of all my lack of love for Jesus,
I wonder if His heart is breaking too.
Refrain:
How many are the lost that I have lifted?
How many are the chained I've helped to free?
I wonder, have I done my best for Jesus,
When He has done so much for me?
I wonder have I cared enough for others, Or have I let them die alone? I might have helped a wand'rer to the Saviour, The seed of precious Life I might have sown.
No longer will I stay within the valley I'll climb to mountain heights above; The world is dying now for want of someone To tell them of the Saviour's matchless love.
by Ensign Edwin Young
Lord, help us to love Thee more,
then love others
as we do our best for You.